"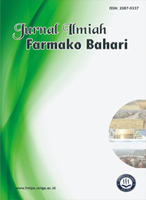 Sceintific Journal of Farmako Bahari is an peer-reviewed, open-access journal that publishes original research articles and review articles in all pharmacy areas. The journal is accredited by The Ministry of Research and Technology/National Agency for Research and Innovation (RISTEK-BRIN) No. 200/M/KPT/2020 (in Three Rank). The journal is published two times a year by the Faculty of Mathematics and Natural Sciences, Universitas Garut, in collaboration with the Indonesian Pharmacist Association, Jawa Barat, Indonesia.
The Scientific Journal of Farmako Bahari is published 2 times a year (January and July). For the issue of Vol. 12 No.2 July 2021, the Journal will accept manuscripts in English and Indonesian.
Informasi
Jurnal Ilmiah Farmako Bahari Terakreditasi Sinta 3

Dikirimkan: 2021-03-31
Lebih Lanjut...
Vol 13, No 2 (2022): Jurnal Ilmiah Farmako Bahari
Daftar Isi
Artikel Penelitian
| | | |
| --- | --- | --- |
| | Nitya Nurul Fadilah, Ali Nofriyaldi, Suna Agustine | 116-125 |
| | | |
| --- | --- | --- |
| | Wulandari Wulandari, Oke Dwiraswati | 126-142 |
| | | |
| --- | --- | --- |
| | Heny Puspasari, Weni Puspita, Sinta Sinta | 143-147 |
| | | |
| --- | --- | --- |
| | Doni Anshar Nuari, Cindra Tri Yuniar, Ahmad Jaidi, Siva Hamdani, Genialita Fadhila | 148-151 |
| | | |
| --- | --- | --- |
| | Sandra Amalia Riyadi, Fajar Fauzi Abdullah, Fitri Fadhilah, Nurul Assidiqiah | 152-163 |
| | | |
| --- | --- | --- |
| | Novia Sinata, Rahma Dona, Muthui'ah Muthui'ah | 164-175 |
| | | |
| --- | --- | --- |
| | Trisna Permadi, Rizka Dwi Mulyani, Vivi Laurensia | 176-183 |
| | | |
| --- | --- | --- |
| | Diana Sylvia, Meta Safitri, Yoga Rian AlHuda | 184-194 |
Artikel Review
| | | |
| --- | --- | --- |
| | Meigita Indah Farkhani, Jutti Levita | 195-201 |
| | | |
| --- | --- | --- |
| | Sinta Alfina, Aji Najihudin, Nurul Auliasari | 202-208 |